Sale!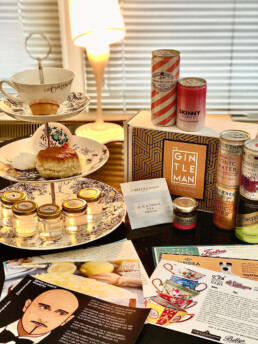 G&Tea Edition Box
The perfect addition to an afternoon tea, this G&Tea edition features 5 gin tasting combinations and canned gin cocktail together with a selection of tasting cards, Fact sheets, mini Etiquette quiz, gin jam for your afternoon tea and a Fortnum & Mason Gin and Tonic tea bag
5 x 35ml Jam Jar Gins inspired by Afternoon tea
5 x Mixers
1 x Canned Gin Fizz cocktail
1 x Pinkster Gin Jam
+ Tasting cards and fact sheets
10 in stock
---
Description
The companion piece to the picnic edition serving 1 to 2 guests with a thirst for knowledge. Ginspired by the ultimate indulgent pause in life Afternoon Tea.
Enjoy the 5 interchangeable gin tasting combinations and canned cocktail.
All you'll need is gin goblet glass or tea cup, ice or pre chill the box in the fridge prior and buy my matching garnish recommendations. 18 and over and remember to Drink responsibly.
A series of group Zoom virtual taste alongs are available for bespoke Events based on a minimum number of boxes purchased
May – National Sandwich Week
June – Cream Tea Day
August – Afternoon Tea Week 4pm Saturday 15th 2020
1 x 35 ml Sipsmith Lemon Drizzle 40.4%
1 x 35 ml Pipehouse Earl Grey & Cucumber 40%
1 x 35 ml Jindea Limited Edition Silver Needle  40%
1 x 35 ml Warner's Honeybee 43%
1 x 35 ml Wrecking Coast Clotted Cream 44%
1 x 150 ml Folkington's Earl Grey
1 x 150 ml Fevertree Clementine & Cinnamon
1 x 150 ml Fevertree Aromatic
1 x 150 ml Schweppes 1783 Cucumber
1 x 150 ml Skinny Raspberry
1 x 250 ml Tiptree Raspberry & Rose Gin Fizz
1 x A5 Gintroduction and Tasting wheel
8 x A5 Jam packed fun facts cards
1 x 42g Pinkster Gin Jam
1 x Fortnum & Mason Gin & Tonic tea bag
Delivery
Postage and packaging for this item is £7.95. Delivered in 3-5 Working Days with Hermes.
Free local Birmingham collection available. Arrangements will be made via email following your purchase.
Returns
Should you wish to cancel your purchase before it is dispatched, you will be entitled to a full refund. Following delivery, if you decide you no longer want the product/s purchased, we will refund your money or exchange the product for a gift voucher to be exchanged at a future Gintleman event, if you inform us within 7 working days after receipt of the product. The product must be returned to us with the seal unopened, in good condition and in its original packaging. Unfortunately, we cannot pay for the delivery charge of unwanted products. Refunds will be made within 30 days. Any faulty or damaged products will be replaced or refunded to you, including the cost of delivery paid. Please let us know within 48 hours of receipt of the product, ideally with photographic proof, and we will provide a relevant replacement/refund you within 30 days of you notifying us. Please note any reimbursement will be refunded via paypal, or onto the credit or debit card used by you to pay for the original purchase.